Choast 1 1/4 Size Papers and Tips - 22ct
Choast 1 1/4 Size Papers and Tips - 22ct

Choast
Choast 1 1/4 Size Papers and Tips come in a box of 22 packs with 32 leaves. Choast Rolls are authentic, unrefined, and unbleached.
22 packs with 32 leaves
Closing magnet lid to help keep your papers stay fresh and Choasty
Natural Filters included in every pack
High quality slow burning natural rolling papers
Natural Arabic Gum
These are asy to roll papers; perfect for people just starting out!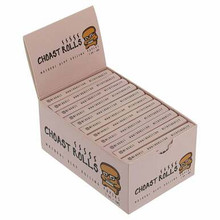 Choast 1 1/4 Size Papers and Tips - 22ct