Bob Marley Organic Hemp 11/4 Rolling paper - 50ct
Bob Marley Organic Hemp 11/4 Rolling paper - 50ct
Bob Marley
Bob Marley Organic Hemp 11/4 Rolling paper comes in 50 packs with 50 leaves. Each of these Bob Marley Organic Hemp rolling papers is made from 100% all-natural hemp.
50 packs with 50 leaves
Hemp paper is made free of nicotine and other toxic additives. 
1 1/4 size paper
Each unflavored paper will cradle an ample amount of your favorite legal smoking herbs so you can sit back, relax and enjoy the day!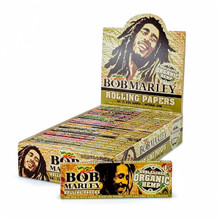 Bob Marley Organic Hemp 11/4 Rolling paper - 50ct