Beamer Original 1 1/4 Hemp Wraps - 25ct
Beamer Original 1 1/4 Hemp Wraps - 25ct

Beamer
Beamer Original 1 1/4 Hemp Wraps come in 25 packs of 4 ultra premium wraps. These are made them from premium Canadian hemp that's untouched by pesticides or GMOs, and is completely free from chlorine, bleach, and nicotine. This makes them some of the smoothest-tasting, most subtly-flavorful wraps you'll ever smoke. Each resealable box comes with 4 wraps. 
25 packs of 4 ultra premium wraps
1 1/4 size (79mm) vegan hemp wraps
Made from hemp that's never treated with pesticides or exposed to GMOs
Wraps are free from tobacco, bleach, and chlorine
Resealable box preserves wrap's freshness
Beamer Wraps have an incredibly natural, smooth-smoking flavor.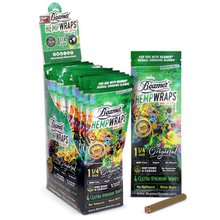 Beamer Original 1 1/4 Hemp Wraps - 25ct