Pop Box Mini 1000 Disposable Vape Device - 10ct
Pop Box Mini 1000 Disposable Vape Device - 10ct
Pop Vapor
Disposable E-Cigs
New Arrivals
Pop Box Mini comes with a 1000-puff capacity device carrying 2mL of vape liquid. It comes in a display pack of 10 devices. 
10 pack display
Puffs: 1000+
Disposable, Non-charging vape device.
Compact, light-weight and portable.
20mg hybrid nicotine salt based e-liquid.
Capacity: 2mL
Battery: 500 mAh
Pop Box Mini has 15 flavours to choose from.
| | |
| --- | --- |
| Strawberry Watermelon | A twist of wonderful juicy taste of ripe strawberries with the refreshing flavor of watermelon. |
| Apple Cranberry | Typically consists of a blend of sweet and tart apple flavors with the tangy taste of cranberries. |
| Blue Energy | A balance of sweet and sour flavors to taste like a popular energy drink. |
| Floss | Sweet flavor of cotton candy lightly infused with a rich whipped cream |
| Banana Ice (GOAT) | A sweet and creamy banana flavor with a cool menthol finish. |
| Blue Razz (GOAT) | A perfectly blended blue blueberry, raspberry flavors. |
| Blueberry Kiwi Ice (GOAT) | A delicious juice of blueberries and tangy green kiwis for the ultimate icy hit. |
| Gb Ice (GOAT) | Combines a gummy bear candy flavour with an icy mint with each puff. |
| Sour Peach (GOAT) | A taste sensation that combines the sourness and sweet juicy flavor of ripe peaches. |
| Iced Blackberry | Combines the sweet, juicy flavor of ripe blackberries with the coolness of iced menthol. |
| Kiwi Berry Ice | A sweet and tangy flavor of kiwi fruit with the juicy sweetness of ripe berries. |
| Mixed Berries | A sweetness and tartness of different types of berries, such as strawberries, blueberries, raspberries, and blackberries. |
| Strawberry Peach | Great combination of ripe strawberries with the sweet and slightly tangy taste of peaches. |
| Watermelon Apple | A flavor that blends the fresh and juicy taste of watermelon with the crisp and refreshing flavor of apples. |
| Watermelon Peach | A sweet and refreshing combination of two fruits Watermelon and peach . |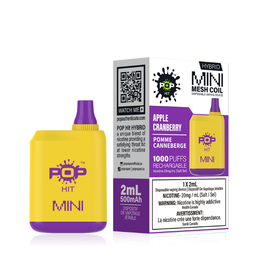 Pop Box Mini 1000 Disposable Vape Device - 10ct