IVG Bar Max 5000 Puffs Disposable Vape - 6ct [NEW VERSION]
IVG Bar Max 5000 Puffs Disposable Vape - 6ct [NEW VERSION]

IVG
Download IVG 5000 Media files here.
IVG 5000 10ml Consists of the Following Flavour:
Strawberry Apple Banana Ice: Fresh strawberry, apple and banana with an icy touch.

Raspberry Menthol: A delicious raspberry flavour mixed with cool menthol.

Poppin Strawberry Peach: Sweet strawberry and ripe peach flavour finished off with mouth-watering lemon flavour.

Mango Peach Watermelon: The juicy flavour of mango, peach and watermelon will only leave you wanting more.

Lychee Blackcurrant: Juicy fresh lychee mixed with sweet bursts of blackcurrant.

Icy smooth strawberry white (Creamy Strawberry Vanilla Ice) : A smooth creamy taste of strawberry ice cream.

Blazzin Blue Razz: Mouth-watering blueberries and raspberries treat, with a subtle slush effect.

Blazzin Berries: A perfect mix of strawberries, raspberries and blueberries with an added lemonade burst.

Mango Blackcurrant: A tasty blend of ripe mango and rich blackcurrants.

Grape Lemon: Fresh grapes with an added touch of lemon for a refreshing taste.

Great White (Creamy Vanilla) : A classic blend of creamy vanilla and a custard-based exhale - a vintage classic.

Strawberrilicious (Creamy Strawberry) : Delicious creamy strawberry dessert flavour.

Apple Strawberry Peach: This ripe apple, sweet strawberry and juicy peach flavour will leave your mouth watering.

Citrus Blackcurrant: A juicy burst of sweet blackcurrants paired with a cool lemonade to finish.

Wiggly B (GB) : Enjoy a sweet blend of your favourite fruits and sweets.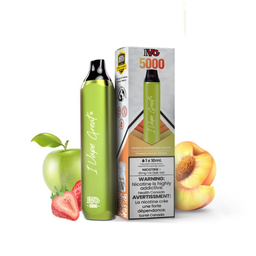 IVG Bar Max 5000 Puffs Disposable Vape - 6ct [NEW VERSION]